Catherine Christer Hennix: Unbegrenzt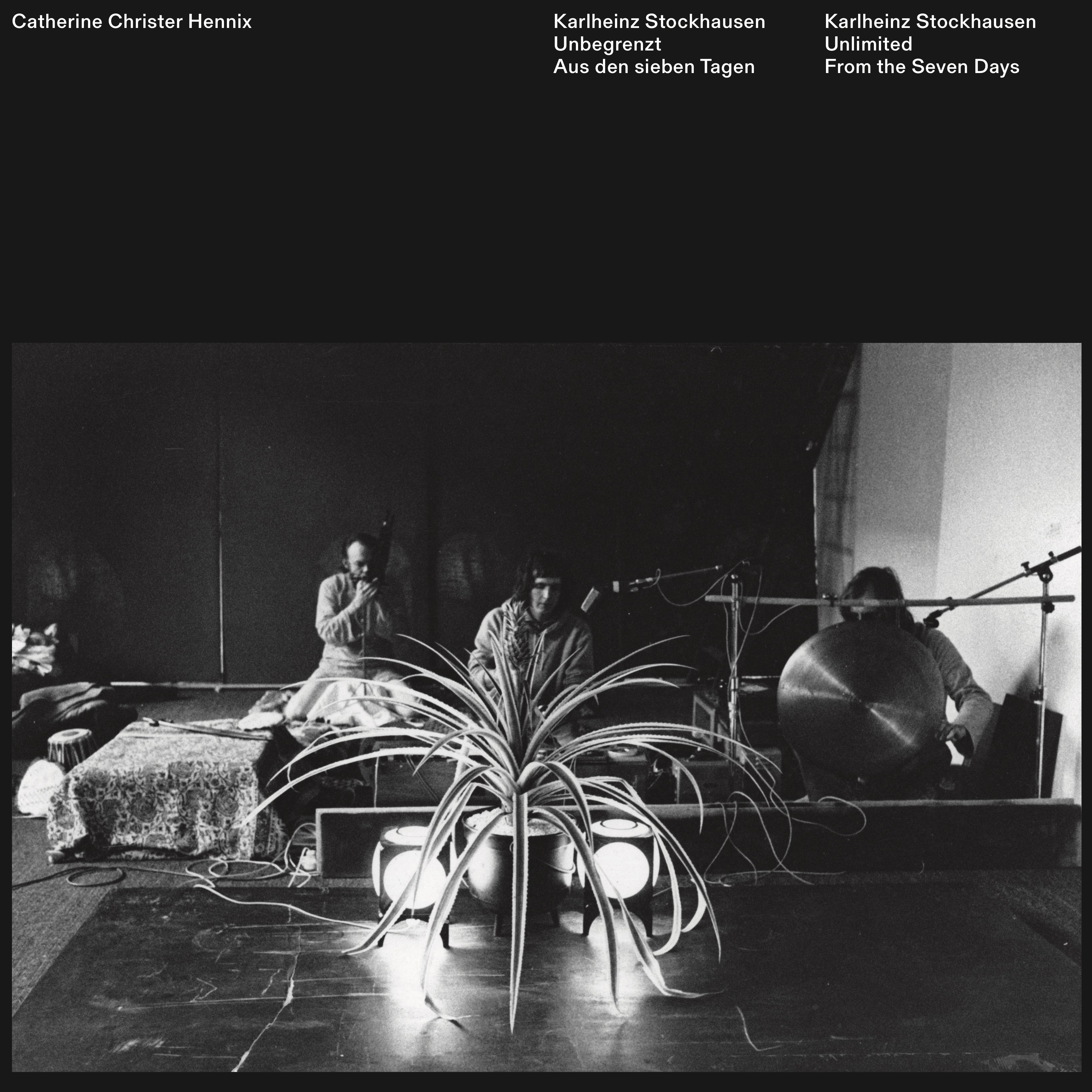 Unbegrenzt is the third in an ongoing series of archival records of the unheard music of Swedish composer Catherine Christer Hennix, co-released by Blank Forms Editions and Empty Editions. It follows Selected Early Keyboard Works and Selections from 100 Models of Hegikan Roku (named the #1 archival release of 2019 by The Wire), in addition to a two-volume collection of Hennix's writing titled Poësy Matters and Other Matters.
Recorded in February of 1974 and featuring Catherine Christer Hennix (recitation, percussion, and electronics) and Hans Isgren (bowed gong), Hennix's realization of Karlheinz Stockhausen's "Unbegrenzt" (German for "unlimited") from Aus den Sieben Tagen is an elaboration both rigorous and radically different from the canonical 1969 recording issued by Shandar. The collection of 15 text pieces written in Paris during May of 1968, Aus den Sieben Tagen, denies its performers notated direction and instead provides poetic cues that hinge upon Stockhausen's conception of "intuitive music," a Eurocentric perspective on improvisation antithetical to the vernacular forms Hennix had engaged with as a young drummer performing in Stockholm jazz clubs with musicians like Bill Barron, Cam Brown, Hans Isgren, Lalle Svenson, Allan Vajda, Bo Wärmell, and many others. While both Hennix and Isgren saw the formal prospect of Aus den Sieben Tagen as a productive development of and beyond La Monte Young's event scores, she here steadfastly counters his rationalization of intuition with the Principle of Sufficient Reason. (Cf. Brouwer's Lattice.) Eschewing the busy, conservatory-addled lapses into idiomatic citation of Stockhausen's 1969 recording, Hennix's alternative realization of the "Unbegrenzt" score's instructions to "play a sound with the certainty that you have an infinite amount of time and space" is based on her concept of Infinitary Compositions, the trademark of her ensemble The Deontic Miracle which, at one time, considered adding Stockhausen, La Monte Young and Terry Jennings scores to its repertoire. Taking a mature, minimal iteration of Stockhausen's compositional method of "moment-forming" to heart, her version's dark, controlled feedback and amplified bowed gong subtly shift through an immanent sequence of formative moments, step by step. Its bubbling computer noise, percussion, and repeated ominous transient sounds of temple blocks over the bowed gong terminate with the integrated recitation of exotic text fragments from Hevajra Tantra which faithfully take Stockhausen's score into deeper vistas of the unconscious and a more devastating opening to the unlimited time and space of a dreaming mind.
Catherine Christer Hennix (b. 1948) started her creative life playing drums with her older brother Peter, growing up in Sweden where she heard jazz luminaries, such as John Coltrane, Eric Dolphy, Dexter Gordon, Archie Shepp, and Cecil Taylor perform from 1960 to 1967. Directly after high school, Hennix went to work at Stockholm's pioneering Elektronmusikstudion (EMS), where she developed early tape music, incorporating computer generated speech done at the Royal Technological University (KTH), where she was an undergraduate student. After traveling to New York In 1968, she met artists Dick Higgins and Alison Knowles who invited her to stay at the Something Else Press Town House where she had the opportunity to meet, among others, composers John Cage, James Tenney, and Phil Corner. During the following years she developed fruitful collaborative relationships with many composers in the burgeoning American avant-garde, including, most significantly, Henry Flynt and La Monte Young. Young introduced Hennix to Hindustani raga master Pandit Pran Nath and she would later study intensively under him as his first European disciple. While Hennix continued to make music performing alongside Arthur Russell, Marc Johnson, Henry Flynt, and Arthur Rhames, she also served as a professor of Mathematics and Computer Science at SUNY New Paltz and as a visiting Professor of Logic (at Marvin Minsky's invitation) at MIT's Artificial Intelligence Laboratory. In recent years Hennix has led the just-intonation ensemble the Chora(s)san Time-Court Mirage, which has featured musicians Amelia Cuni, Amirtha Kidambi, Chiyoku Szlavnics,  Hilary Jeffrey, Amir El-Saffar, Benjamin Duboc and Rozemarie Heggen. She currently resides in Istanbul, Turkey pursuing studies in classical Arabic and Turkish makam.
Audio restoration and mastering by Stephan Mathieu, with an essay by Bill Dietz as well as a conversation between Dietz and Hennix.