Graham Lambkin: Aphorisms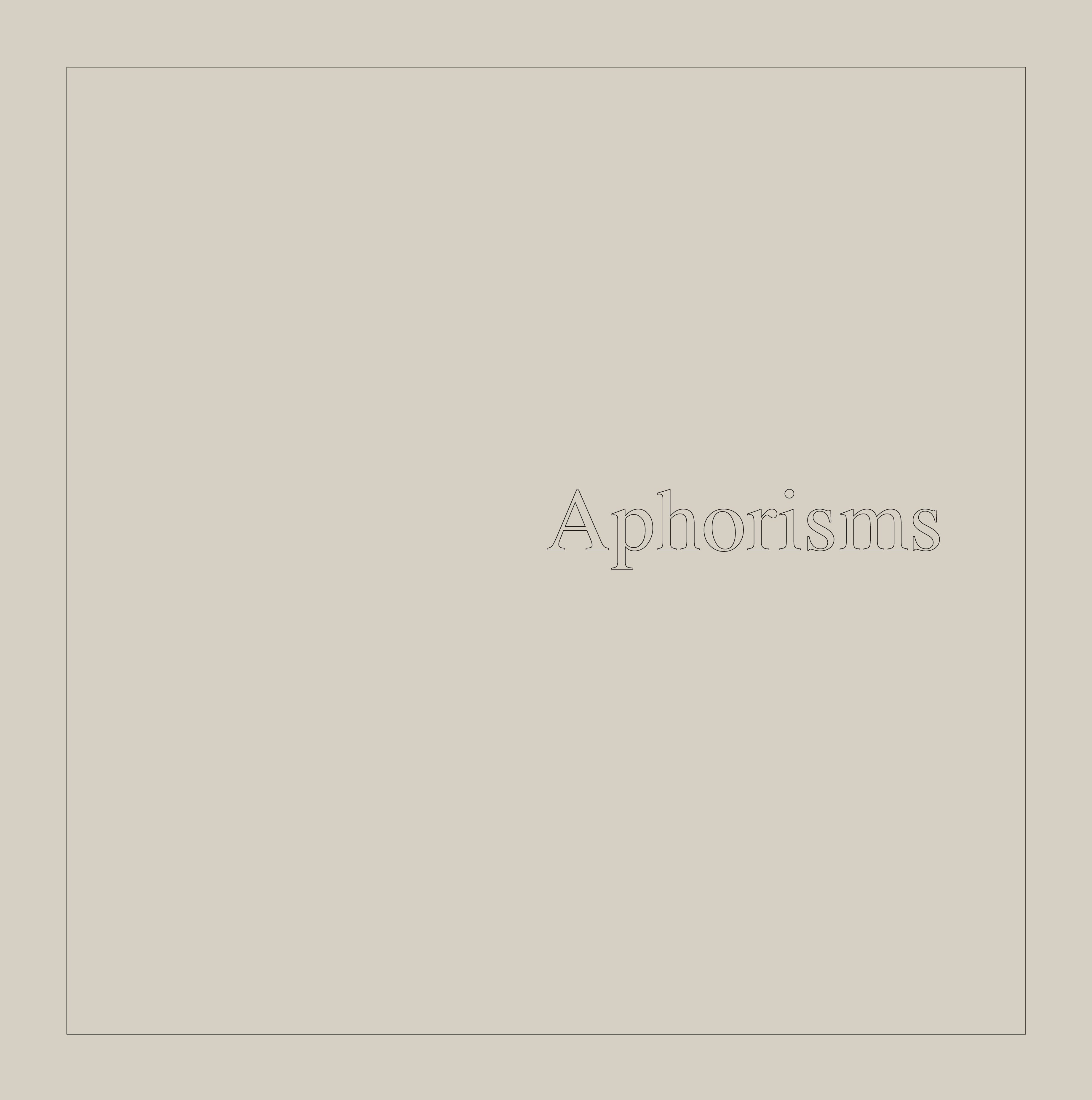 Release Date: June 23, 2023.
"All of humanity's problems stem from man's inability to sit quietly in a room alone." —Pascal
Graham Lambkin (of Shadow Ring fame) returns with a long awaited epic double LP, Aphorisms, his first major solo outing since Community (Kye, 2016). Recorded mostly during the early winter months of 2022, in post-pandemic New York and post-Brexit London, Aphorisms assembles the sonic detritus of daily life into hauntingly intimate aural soundscapes. Made between Lambkin's residence in East London and Blank Forms in New York, Aphorisms superimposes the two spaces onto one another creating an imaginary stage where his musical dramas unfold. A transatlantic mediation on the rooms where Lambkin has lived and worked, Aphorisms summons up hallucinatory vistas by way of the composer's collage technique, layering field recordings, piano, guitar, percussion, vocal fragments, and repurposed elements on top of one another in double, triple, and quadruple exposures. Like the Shadow Ring's Lindus (Swill Radio, 2001)—recorded between Folkestone and Miami—Aphorisms ruminates on estrangement and displacement, catching Lambkin as he returns to London after two decades of living in the States, in his words, "leaving home to return home." 
Aphorisms continues Lambkin's synthetic-naturalist approach to sound-making, twisting disparate and unique elements together to create the sensation of a coherent sonic space. At the heart of his practice is the illusion of form, whereby Lambkin combines sonic elements, documenting the moment that they coalesce into music only to disintegrate back into incidental sound. The album is centered around two pianos, one in New York and one in London, sounding together as if through the ether, creating a spectral atmosphere that Lambkin fills with melodic snippets, fragments of songs, spoken-word musings, and guttural barks or "the animal purity of voice," as he has it. The superimposition of the two spaces is maximized in the album's closing titular track, where, much like on earlier works such as Salmon Run (Kye, 2007) and Softly Softly Copy Copy (Kye, 2009) fragments of familiar melodies float through the mix as though being played from afar. Aphorisms is Lambkin at his best, extending methodologies only hinted at previously and taking his now-idiosyncratic mission statement to a new chapter. If it ain't broke don't fix it. 
Aphorisms features album art by Lambkin and was mastered by Stephan Mathieu at Schwebung Mastering. Its packaging was designed by Alec Mapes-Frances.
GRAHAM LAMBKIN (b. 1973, Dover, England) is a multidisciplinary artist who came to prominence in the early '90s through his experimental music group the Shadow Ring. As a sound organizer rather than music maker, Lambkin transforms quotidian materials into expressive sound art using tape manipulation techniques, chance operations, and the thick ambience of domestic field recordings. His Kye imprint, founded in 2001, was an instrumental platform for the dissemination of work by an intergenerational cast of artists using sound, including Henning Christiansen, Anton Heyboer, Moniek Darge, and Gabi Losoncy. Lambkin began showing his visual art in 2014 with "Came To Call Mine," an exhibition curated by Lawrence Kumpf and Justin Luke at Audio Visual Arts, New York, in conjunction with the publication of Lambkin's children's book (for adults) of the same name, and he has since exhibited his work at 356 Mission, Los Angeles; Künstlerhaus Stuttgart and Projektraum im KunstWerk, Cologne, Germany; and Blank Forms, New York.