Wesley Brown: Blue in Green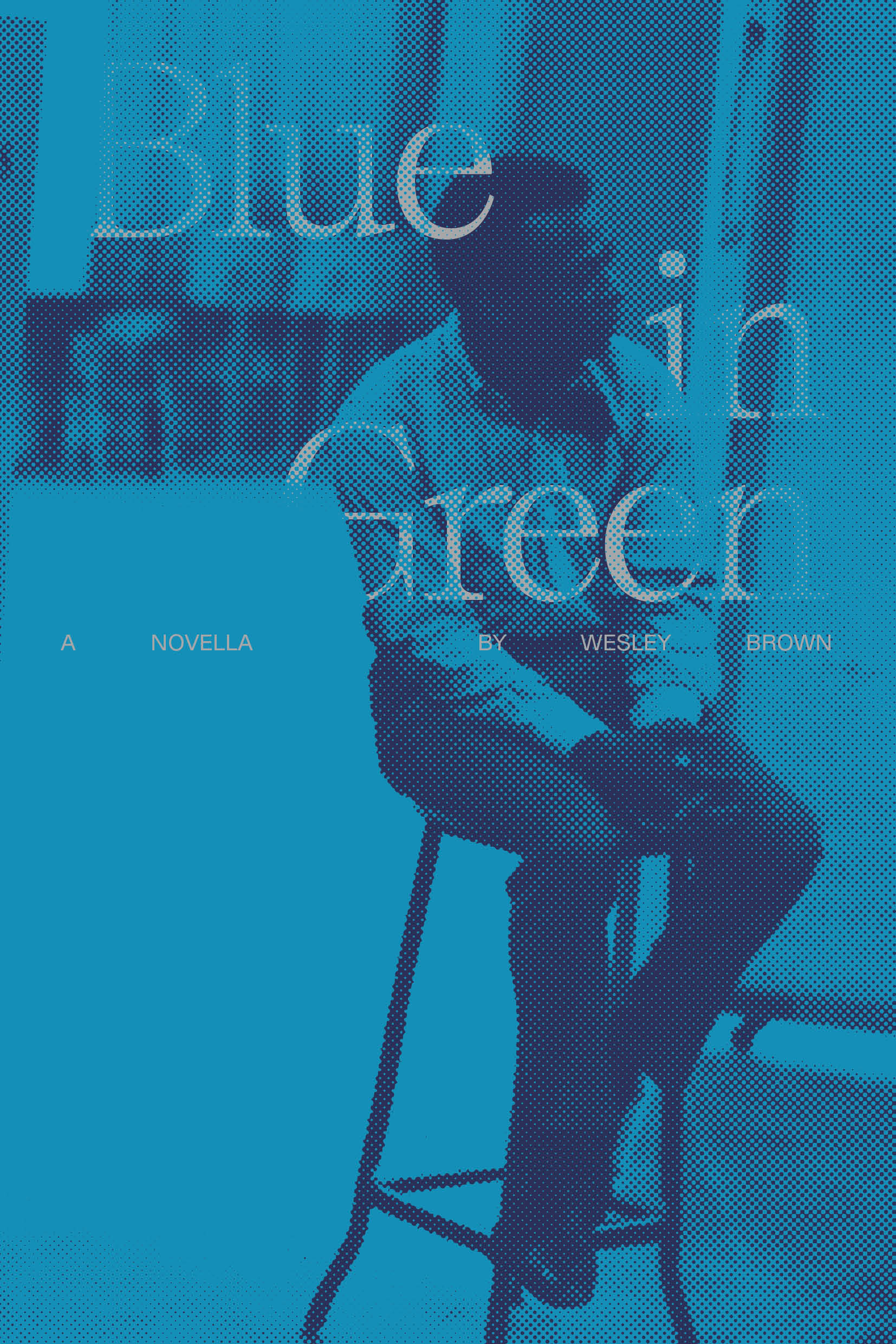 The latest work from the veteran novelist called "one hell of a writer" by James Baldwin, "wonderfully wry" by Donald Barthelme, and a "writer's writer" by Ishmael Reed, Blue in Green narrates one evening in August 1959, when, only eight days after the release of his landmark album Kind of Blue, Miles Davis is assaulted by a member of New York City Police Department outside of Birdland. In the aftermath of Davis's brief stint in custody, we enter the strained relationship between Davis and the woman he will soon marry, Frances Taylor, whom he has recently pressured into ending her run as a performer on Broadway and retiring from modern dance and ballet altogether. Frances, who is increasingly subject to Davis's temper—fueled by both his professional envy and substance abuse—reckons with her strict upbringing, and, through a fateful meeting with Lena Horne, the conflicting demands of motherhood and artistic vocation. Meanwhile, blowing off steam from his beating, Miles speeds across Manhattan in his Ferrari. Racing alongside him are recollections of a stony, young John Coltrane, a combative Charlie Parker, and the stilted world of the Black middle class he's left behind.
Blank Forms's release of Blue in Green continues the contemporary reenagement with Brown's work which began with last year's new McSweeny's reprint of Tragic Magic, the author's first novel. Published in 1978 and edited by Toni Morrison, Tragic Magic concerns Melvin Ellington, a man jailed for protesting the Vietnam War; Brown began work on the novel while himself incarcerated on the same charges. In 1992, the author wrote Life During Wartime, a play about the death of street artist Michael Stewart, a victim of police brutality who died in custody. Blue in Green again interrogates detention's personal, political, and cultural consequences. 
A historical novel much like his 1994 volume Darktown Strutters, the story of a minstrel performer, Blue in Green takes up the voices of a multitude of twentieth-century  entertainers at a pivotal moment in American culture and race relations. Staging the conversations of not only Davis, Taylor, Horne, Parker, and Coltrane but also Eartha Kitt, Billie Holiday, and Bill Evans, Brown engages facts to explore relationships between artists of different generations, races, and genders, all of whom must negotiate their positions in what Davis irreverently calls "the business' known as show."
WESLEY BROWN (b. 1945) is an Atlanta-based writer and educator whose work spans fiction, poetry, biography, theater, and film. His oeuvre is distinguished by its attention to the musicality of speech and its balance of humorous, ironic, and political engagement with American history. In 1956, while a student at State University of New York at Oswego, Brown joined the Student Nonviolent Coordinating Committee, moving south to register voters with the Mississippi Freedom Democratic Party near the Tennessee border, where he first began to write poetry. After an arrest at a demonstration in Jackson, Mississippi, he graduated college and moved to Rochester, New York, in 1968, where he became an active member of the Black Panther Party before returning to his native New York City to join writing workshops led by Sonia Sanchez and John Olliver Killens. In 1972 he was arrested as a conscientious objector to the Vietnam War; in a statement to the draft board he quoted the Panther's Ten Point Program, adding, with his signature use of idiomatic expression, "If you can't relate to that, you can walk chicken with your ass picked clean." He served an eighteen month sentence at Lewisburg Federal Penitentiary in Pennsylvania, which informed the writing of his recently reissued first novel, Tragic Magic (Random House)—edited by Toni Morrison and released to wide acclaim by writers including James Baldwin, Donald Barthelme, and Ishmael Reed in 1978. His short fiction and essays have been published widely, from movement publications such as Liberator to glossies including Essence. For twenty-six years Brown taught literature and creative writing at Rutgers University in New Jersey. During this time he was involved with the National Association of Third World Writers; co-edited celebrated collections of multicultural American literature, authored the historical novel Darktown Strutters (Cane Hill, 1994) and award-winning plays including Boogie Woogie and Booker T. (1987) and Life During Wartime (1992); and wrote, with Thulani Davis, Toni Cade Bambara, and Amiri Baraka, the screenplay for W.E.B. Du Bois: A Biography in Four Voices (1996). After retiring, he relocated to New England, where he taught at Bard College at Simon's Rock in Massachusetts and Bennington College in Vermont, and authored his third novel, Push Comes to Shove (Concord Free Press, 2009), and the short story collection Dance of the Infidels (Concord ePress, 2017). 
"Miles Davis was a cruel, narcissistic bully who hated his skin color and cultivated an image as that of a pug. He practiced by beating up his wife, Frances Taylor, and Paul Chambers, but when it came to his business he was a pussycat. He played at Birdland, owned by the mobsters and where musicians were regularly called niggers and short-changed. He knew better than to raise his fists at these guys. He squandered money on the mob's products. The cop who beat him up was probably owned by the mob too. New York cops at the time, authoritarian, catholic, hated race mixing unless it was them doing it.
Wesley Brown is a writer's writer. His dialog in Blue in Green is remarkable. He knows the varieties of the American language in and out. We get fascinating portraits of Dizzy Gillespie, Thelonious Monk, Billie Holiday, Clark Terry, Lena Horne, Katherine Dunham, Eartha Kitt, and others. An insider named Freeloader provides comic relief. Before the salespersons dictated trends in Black literature, a major publisher would have published this book. Thanks to Blank Forms and other midsize presses, the Black literary tradition, whose fictional standards were set by Brooks, Wright, Himes, Polite, Bambara, and others, is alive." 
Ishmael Reed, author of Mumbo Jumbo
"Wesley Brown attempts a difficult thing with this book: He attempts to walk inside the consciousness of Miles Davis at a very complex point in his very complex life. Beaten by police for smoking a cigarette outside Birdland, married to a brilliant and accomplished dancer, leading a sextet that has genius at every station, and fending off demons that are co-authors of his being, Brown's Miles is a man who is troubled and proud. This novella is lyrical, insightful, and beautiful."
A. B. Spellman, author of Four Lives in the Bebop Business
"Blue in Green is a gorgeous jazz composition. In love and in torment, Miles Davis and Frances Taylor are co-creators and lead soloists. Brown surrounds them with an ensemble of brilliant friends, rivals, and mentors: Monk, Coltrane, Cannonball Adderley, Katherine Dunham, Lena Horne, Eartha Kitt. All have their say—shrewd, ebullient, dissonant. When I closed the book, I wanted to begin it all overagain: see, hear, and re-experience every note of Wesley Brown's wonderful prose music."
Margo Jefferson, author of Negroland: A Memoir
"As he writes about Miles and Lady Day in Blue in Green, Wesley Brown does more 'with less.' In this concise novella he renders the music and the musicians with intelligence, depth, clarity, and beautiful wisdom. An extra bonus: though it is a story of Miles, Frances, fully imagined, finally gets her due. Blue in Green is a true gift from a great writer." 
Farah Jasmine Griffin, author of Read Until You Understand: The Profound Wisdom of Black Life and Literature
Wesley Brown approaches African American history with such originality. In his novella, he inhabits the mind of a creative legend, Miles Davis. Brown writes beautifully about musicians. He conveys so memorably the artistry of jazz and the passion of black life at a critical moment in our social history.
Darryl Pinckney, author of Come Back in September: A Literary Education on West Sixty-seventh Street, Manhattan